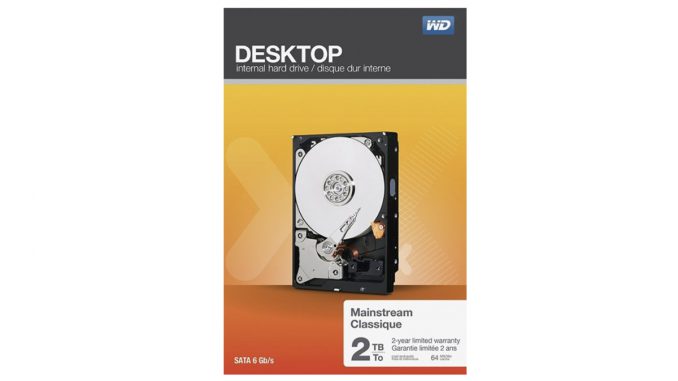 I've been using Western Digital drives for a long, long time. Western Digital creates drives in a number of price and quality ranges. Most of the time these drives are color-coded with blue, red, black, and so on, to show which range they are in. Maybe they thought this was too confusing for some consumers, so you can also find the exact same units with branding such as Mainstream.
When my son's main hard drive began failing, we promptly ordered him a replacement blue 2TB hard drive. It comes with this Mainstream branding on it, but when you look at the specs you can see it's a blue WD drive.
In the overall scope of Western Digital drives, blue is the home-use variety. It's certainly reliable – we have many of our home systems with blue drives in them which have been going strong for years and years. On the other hand, blue is cheaper than the high-end drives used in mission critical banking applications. We just don't need that kind of speed.
Installation is a breeze. Rather than risk dealing with corrupted data, we completely pulled the old drive out of my son's system and put this new one in. We did a wholly fresh install of Windows on the new drive. Then we put the old drive into an external docking station and moved the data off that old drive and onto a new external drive. That way my son could poke through the old drive's data at his leisure, safely, and get off any data files he might need. Plus now he would also have an external drive to use for backup purposes going forward.
He's been using this new drive for nearly a month now and it's working like a charm. I would expect no less. I have one of my own systems that has a Western Digital drive in it that's in heavy use, now ten years old, and it just began developing bad sectors recently. So they are definitely workhorses.
Well recommended.
The one we got for this situation was the 2TB model. It has a 64MB cache buffer and a standard SATA interface. We bought it through Best Buy so we could have it same-day, rather than wait for an Amazon delivery.