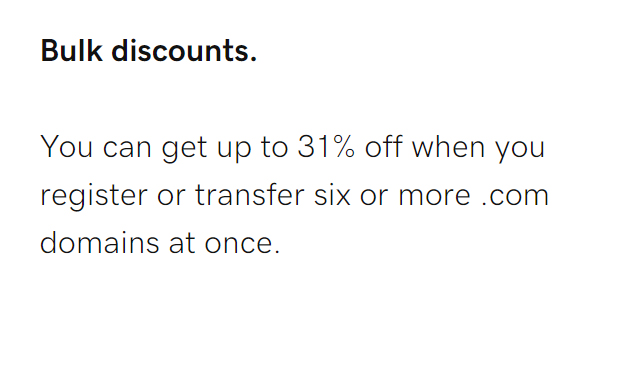 GoDaddy aggressively pushes in their marketing that they provide top-notch domain transfer pricing and support. GoDaddy aims to lure web-owners who use other domain name providers to move to GoDaddy instead. Is it a wise move?
I've been running websites since the late 1990s, so for quite a while. Back in the 'old days' one of the only real options in town for getting URLs was Network Solutions. In fact, until 2001, Network Solutions was the ONLY place one could buy a URL in the US.
Due to inertia I kept my domain ownerships with NetSol over the years, even as their prices kept climbing. I have to laugh when people complain about $14.99/year being too expensive to own a URL. NetSol's current price is $42.99/year. Now, to be fair, Network Solutions has AMAZING support. Every person I've talked with there has been intelligent and competent. So you're paying Network Solutions for top-notch service.
Still, though, $42.99/year just for the domain ownership? There has to be a middle ground.
So I looked into GoDaddy.
I've used GoDaddy for various projects over the past decades. In general I've run into issues with them. Their customer support and tech support people are extremely hit-or-miss in terms of quality. So when I contacted the GoDaddy chat about the prospect of moving my 37 sites from Network Solutions to GoDaddy, I had a low level of expectation.
The current GoDaddy domain transfer information is found here:
There are two key areas.
First, GoDaddy lists their current .com transfer fee to be $8.49 per URL, including free registration for a year. GoDaddy don't say what the URL renewal price will be after that. You have to google to find it's currently $17.99/year. The GoDaddy site does NOT provide that information anywhere I can find. I feel that is fairly unethical.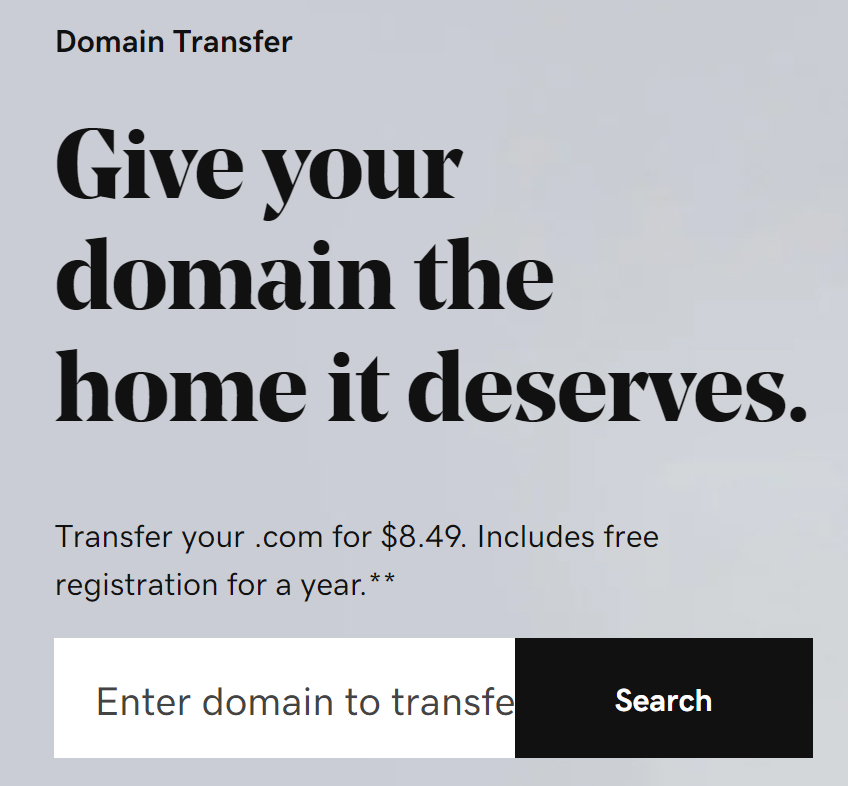 Second, on that same domain transfer page, GoDaddy indicates it will give you a bulk discount if you register six or more .COM domains in a transaction: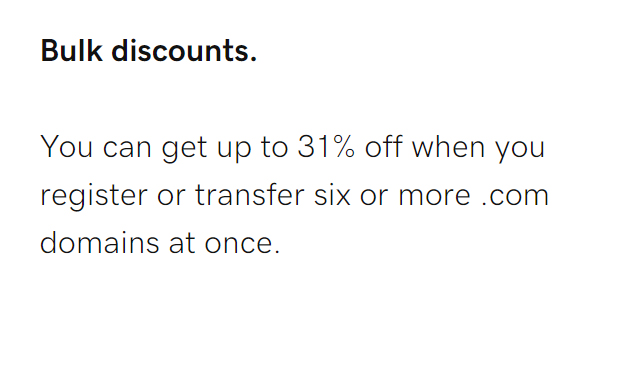 I used the GoDaddy chat to talk with a support technician. My quest was to find out if I would get any discount for moving all 37 of my URLs at once. They are primarily .com but there are also a few .org and .net URLs.
The chat technician first encouraged me to unlock all 37 domains on Network Solutions and enter all 37 URLs into a GoDaddy purchase basket so he could see what the pricing might be. There's absolutely no way I'm going to invest all that time and effort just to get a pricing quote. Also, I will note that Network Solutions takes **THREE DAYS** to process a request to get an unlock code.
Next, he wanted me to unlock all of my domains at Network Solutions and give HIM the unlock codes so he could fill in the shopping cart for me. That's not the point. Surely there is some way to get a pricing quote without unlocking a bunch of my domains on Network Solutions and handing over the codes.
After that, he wanted me to just give him six of my URLs so he could put those in to the basket. That is easy enough. I gave him eight of my URLs. He came up with the same standard $8.49/transfer price. There was no bulk discount at all for having six or more .com URLs.
When I pointed out that it wasn't a discount, he said, well the normal yearly renewal price is $17.99/year so you're getting a discount.
I said, the top of the GoDaddy domain transfer page says the standard starting transfer fee is $8.49. So there is no 'bulk discount' at all if the price you get for transferring six .com URLs all at once is the exact same cost as the standard cost listed for transferring one URL.
He was unable to understand that issue. He just kept repeating that the bulk discount was $8.49 each for the first year. The normal price for transferring a domain is $8.49 a year. They are exactly the same price.
The only two ways to contact GoDaddy are through that chat, which so far has never gotten me to a person I could intelligently talk with, or through the phone number.
I am now going to try using the phone number, have them read this description of the situation, and see if they have any comments. As it stands now, I find the bulk transfer offer on their transfer homepage to be EXTREMELY deceptive, if the pricing is exactly the same as the standard single-URL transfer offer. I also find it quite unethical to not show anywhere on the site what the renewal price currently is set to, so people know what the range of price jump will be when it comes to renewal time.
I understand that renewal prices change. That is wholly separate from letting people know what your current price structure is.
Please comment if you have any experiences with GoDaddy.
UPDATE: Apparently GoDaddy just suffered a substantial hack where many websites had catastrophic losses. I will not be using GoDaddy.
Also, on the Forbes 2022 list of domain registrars, GoDaddy only rated a 2.9 / 5 stars due to its high prices and upselling hassles.