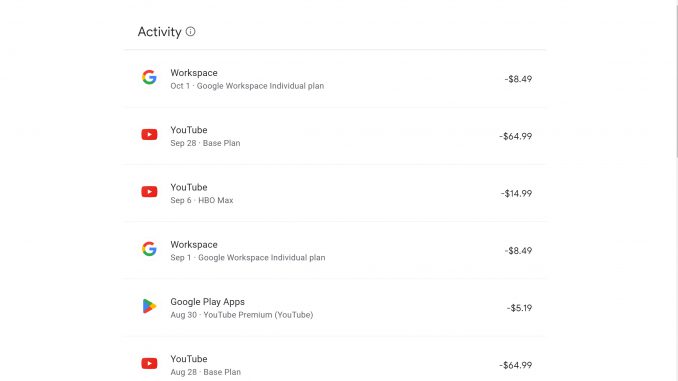 In our modern world, it can be incredibly easy to accidentally sign up for charges. You think software is free, but after a week suddenly the charges begin. You don't even realize software is going to charge you. Then suddenly your credit card is showing up with entries for GOOGLE *GSUITE or GOOGLE *WORKSPACE or GOOGLE *YOUTUBE or other GOOGLE *SERVICES. How do you figure out where these come from?
I myself realized that I had been getting recurring charges of $8.49 a month from GOOGLE*WORKSPACE. I didn't even know what Google Workspace was. I called in to Google Workspace and it took me three times to get to a customer service human being. They explained that Google Workspace used to be Google GSuite which was about managing email for websites. I definitely never used Google to manage my website-based email.
I have at least 15 different Google accounts because of the various websites I run. I tried going to workspace.google.com and logging into each one. None gave me access. The support person couldn't look up the bill by the credit card number. Finally he recommended I contact the 'contest this charge' group to see if they could help. I submitted a request to contest the charge and asked for someone to contact me. Nobody ever contacted me, and they denied the refund request, too.
I called back in again to the main Google Workspace number and explained the issue again. When I told him that my credit card entry said:
GOOGLE*WORKSPACE INTERENT CA
he claimed that meant it wasn't a workspace charge because a workspace charge would show up as GOOGLE*GSUITE. He said he was going to look into it – and then he hung up on me.
While the initial charges in September 2021 read GOOGLE*WORKSPACE INTERNET CA the current 2022 entries now say GOOGLE *Workspace 650-253-0000 CA. So it's slightly different. The charge is right alongside my legitimate GOOGLE *YouTube charges for my YouTube channels.
So what I then decided to do is to see if Google Pay had any record of these charges. You get to Google Pay at
https://pay.google.com
This is how you track all the payments done through various Google systems. I started logging into Google Pay with each of my Google accounts. Voila! The account that I have my YouTube payments coming through also does in fact have a "Workspace" charge. So this is NOT A FRAUDULENT CHARGE in the sense that it IS coming from Google. It is right there in the Google system.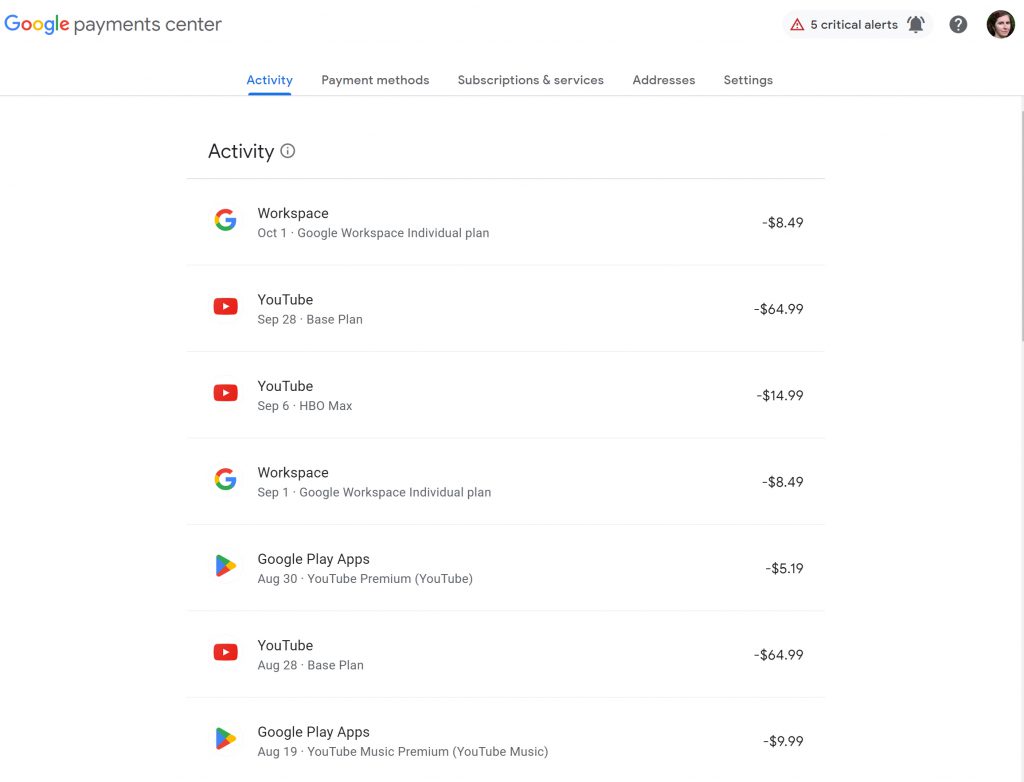 When I click on that entry in Google Pay, it says:
Google Workspace Individual plan
https://workspace.google.com/individual/
This is COMPLETELY DIFFERENT than what the Google Workspace support person was talking about. He kept talking about business email addresses. This individual Google Workspace account is about having longer calls with Google Meet. During the pandemic my friends and I used Google Meet several time for video calls, because one of them dislikes Zoom. I have to imagine one of the times our call time period was about to run out, so I hit a button to extend the call. That then activated an Individual Google Workspace account. And since I never cancelled it, it just kept charging me $8.49/month for a service I never used again.
Now that I could see the entry in Google Pay, it was one button click to cancel it. It did ask me why I was cancelling, but then the cancellation was complete. Problem solved.
So if you come across a GOOGLE*WORKSPACE or GOOGLE*GSUITE or GOOGLE*YOUTUBE charge on your card, log into Google Pay. Look to see if it's actually coming from the Google system. If it is, then you should be able to figure it out there and manage it.
If you find NO TRACE of any entries in Google Pay, then it's time to call up your bank or credit card company to see if the charge is fraudulent.
Good luck!!