Just about every web site would like to make money. Using ASP, you can easily get up a shopping cart to sell subscriptions, books, crafts, and MUCH more.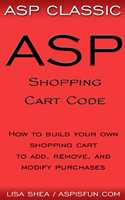 Add sales to your website! Whether you're selling soap, parakeet toys, candles, crafts, jewelry, ebooks, software, your old CD collection or anything else, ASP can make it quick and easy. Get your website to work for you!
The code contains step by step instructions including sample code to get your shopping cart up and running. Here is what is covered:
One Item Manual Cart
— The Basic Concepts
— Preparing the Purchase Page
— The PayPal Purchase Code
— Handling the Payment
One Item Instant Cart
— The PayPal Purchase Code
— The ThankYou.asp Code
— Manual Follow Up
Dynamic Item Instant Cart
— The Products Table
— Displaying a Dynamic Inventory
One Item Secure Cart
— Membership Database Table
— Securing the Purchase Option
— A Secure Purchase Button
— Purchase Database Table
— Practice, Practice
Multiple Item Secure Cart
— Cart Database Table
— Performing a Check Out
— Handling the Cart
A must have for any website that would like to boost its earnings with online sales!
Author: Lisa Shea
Pages: 32
Price: $9.99 US